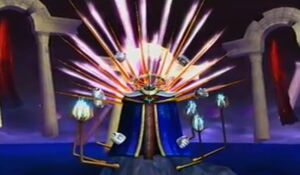 Nightmare is a place in the Night Dimension where visitors go when they are having a nightmare. Wizeman the Wicked is the king of nightmares, having been the one who created it and its inhabitants, the Nightmarens. The player reaches Nightmare when they take on a Nightmaren boss. Nightmare is reachable in the Dream Gate by falling in the dark ocean or being kidnapped by Wizeman. If a Visitor falls into the dark ocean and Wizeman manages to steal their ideya, they will be trapped in Nightmare in their sleep forever.
Gallery
Trivia
Sometimes, it is called the "Nightmare World".
Ad blocker interference detected!
Wikia is a free-to-use site that makes money from advertising. We have a modified experience for viewers using ad blockers

Wikia is not accessible if you've made further modifications. Remove the custom ad blocker rule(s) and the page will load as expected.